The 20 Amazing Cocktail Recipes You Love the Most
Once you showing interest in how to make great cocktail recipes, well, we couldn't stop! We can't wait for you to give them a try. Try our delicious cocktail recipes for every occasion. If you're looking to impress without the faff, try our easy and amazing cocktail recipes.
Also Read: 3 Best Ways To Make Bloody Mary Cocktail
Making fancy cocktail recipes always puts us in the mood to have a good time, like putting together edible garnishes and floral beverages. But sometimes we don't feel like having to mix up an elaborate drink (even if it's supposedly healthier than our usual tipple) just to quench our cocktail craving.
Below are the best of our best 20 amazing cocktail recipes: fun, fancy and everywhere in between!
Coco Cabanatini
Cobalt Blue
Forbidden Fruitini
Hypnotize Me
Just Peachie
Lemony Jack
Passion Punch
Painkiller
Orange fantasy
Rebellious Heart
Stormy Nights
Speakeasy Martini
Tropical Passion
Tutti-Frutti smoothie
Toasted Almond
Peach-Sickle
Passionate Kiss
Mudslide
Melon Ball
Hazelnut Colada
1. Coco Cabanatini
| | |
| --- | --- |
| Ingredient | Qty. |
| Coconut flavoured rum | 60 ml |
| Crème de banana | 30 ml |
| Goldschlager | 15 ml |
| Cream | 15 ml |
Method: Add all the ingredients in a shaker add ice shake until chilled and serve it in a martini glass
Type: Shaken
Garnish: Banana slice & Cinnamon sprinkles
Glass: Martini
2. Cobalt Blue
| | |
| --- | --- |
| Ingredient | Qty. |
| Inniskillin ice-wine | 45 ml |
| Vodka | 60 ml |
| Curacao | 30 ml |
Method: Add all the ingredients in a shaker add ice shake until chilled and serve it in a martini glass
Type: Shaken
Garnish: Orange twist
Glass: Martini
3. Forbidden Fruitini
| | |
| --- | --- |
| Ingredient | Qty. |
| Pama liqueur | 60 ml |
| Vodka | 30 ml |
| Grapefruit juice | 30 ml |
| Pineapple juice | 30 ml |
Method: Add all the ingredients in a shaker add ice shake until chilled and serve it in a martini glass.
Type: Shaken
Garnish: Infused berries on pick
Glass: Martini
4. Hypnotize Me
| | |
| --- | --- |
| Ingredient | Qty. |
| Vodka | 30 ml |
| Hypnotiq | 30 ml |
| Strawberry liqueur | 15 ml |
| Dekuyper Razzmatazz | 15 ml |
| Sweet & sour mix | 30 ml |
| Dry ice | 10 gm |
Method: Add all the ingredients in a shaker, add ice shake until chilled, later on drop some dry ice, let the smoke start flowing out and then serve it in a martini glass
Type: Shaken
Garnish: Fresh strawberry hearts on an arrow & dry ice
Glass: Martini
 5. Just Peachie
| | |
| --- | --- |
| Ingredient | Qty. |
| Vodka | 60ml |
| Peachtree schnapps | 30 ml |
| Sweet & sour mix | 15 ml |
Method: Add all the ingredients in a shaker, add ice shake until chilled, later on drop some dry ice, let the smoke `start flowing out and then serve it in a martini glass
Type: Shaken
Garnish: Fresh strawberry hearts on an arrow & dry ice
Glass: Martini
6. Lemony Jack
| | |
| --- | --- |
| Ingredient | Qty. |
| Jack Daniels | 60 ml |
| Triple Sec | 15 ml |
| Lemon & lime soda | 90 ml |
| Sweet & sour mix | 30 m |
Method: Combine all ingredients except the soda in a shaker & shake well with ice. Pour in glass & top up with lemon & lime soda
Type: Shaken
Garnish: lemon wheel
Glass: Highball glass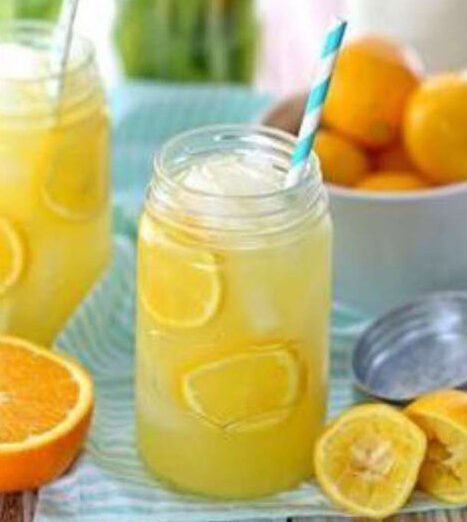 7. Passion Punch
| | |
| --- | --- |
| Ingredient | Qty. |
| Orange liqueur | 15 ml |
| White rum | 60 ml |
| Orange juice | 90 ml |
| Pineapple juice | 90 ml |
Method: Combine all ingredients in a shaker & shake well with ice. Pour in a Highball glass.
Type: Shaken
Garnish: Pineapple & cherry
Glass: Hurricane glass
8. Painkiller
| | |
| --- | --- |
| Ingredient | Qty. |
| Dark rum | 60 ml |
| Pineapple juice | 90 ml |
| Orange Juice | 30 ml |
| Coconut cream | 15 ml |
| Nutmeg powder | Dash |
Method: Combine all ingredients in a mixing tin & blend well & pour it in a highball glass
Type: Blended
Garnish: Sprinkle Nutmeg
Glass: Highball glass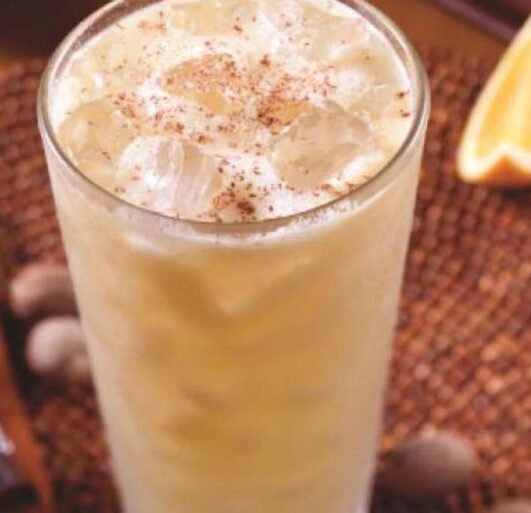 9. Orange fantasy
| | |
| --- | --- |
| Ingredient | Qty. |
| Vodka | 60 ml |
| Liquor 43 | 30 ml |
| Orange juice | 90 ml |
| Vanilla essence | Dash |
Method: Combine all ingredients except in a shaker & shake well with ice. Pour in a Highball glass
Type: Shaken
Garnish: Orange & cherry
Glass: Highball glass
10. Rebellious Heart
| | |
| --- | --- |
| Ingredient | Qty. |
| Passoa | 30 ml |
| Orange flavoured vodka | 60 ml |
| Orange liqueur | 10 ml |
| Sparkling wine | 30 ml |
| Orange Juice | 60 ml |
Method: Combine all ingredients except sparkling wine in a mixing tin & blend well. Then pour sparkling wine into the tin & then pour ingredients over ice in a highball glass & float berries on top
Type: Shaken
Garnish: Float berries on top
Glass: Highball glass
11. Stormy Nights
| | |
| --- | --- |
| Ingredient | Qty. |
| Raspberry flavoured vodka | 30 ml |
| Orange flavoured vodka | 30 ml |
| Peach schnapps | 20 ml |
| Blue Curacao | 10 ml |
| Lime juice | 10 ml |
| Grenadine | 10 ml |
Method: Pour the vodkas & the peach schnapps into a mixing tin & shake well & strain into a chilled martini glass. (Layer the lime juice, grenadine & blue curacao carefully & in this order).
Type: Shaken
Garnish: No garnish
Glass: Martini
12. Speakeasy Martini
| | |
| --- | --- |
| Ingredient | Qty. |
| Southern comfort | 60 ml |
| Apricot brandy | 30 ml |
| Orange liqueur | 30 ml |
| Prosecco | splash |
Method: Add all the ingredients in a shaker add ice shake until chilled and serve it in a martini glass. Garnish with a cinnamon sugar rimmed & lemon twist
Type: Shaken
Garnish: cinnamon rim & lemon twist
Glass: Martini
13. Tropical Passion
| | |
| --- | --- |
| Ingredient | Qty. |
| White rum | 15 ml |
| Dark rum | 10 ml |
| Vodka | 15 ml |
| Orange liqueur | 10 ml |
| Passoa | 15 ml |
| Orange juice | 60 ml |
| Pineapple juice | 60 ml |
Method: Gently add Passoã to the side of the glass so that it sinks to the bottom. Mix white rum & vodka with the fruit juices & slowly pour over the ice to layer on top of the Passoã then layer dark rum on the top.
Type: Shaken/ Built up
Garnish: Pineapple triangle
Glass: Highball glass
14. Tutti-Frutti smoothie
| | |
| --- | --- |
| Ingredient | Qty. |
| Vodka | 30 ml |
| Raspberry flavoured rum | 90 ml |
| Orange juice | 15 ml |
| Smoothie mix | 15 ml |
| Banana | Half |
| Peach | Half |
| Strawberry | 2 nos. |
| Honey | 10 ml |
Method: Combine all ingredients in a blender & blend till smooth
Type: Blended
Garnish: Strawberry slice
Glass: Highball
15. Toasted Almond
| | |
| --- | --- |
| Ingredient | Qty. |
| Coffee Liqueur | 30 ml |
| Almond liqueur | 30 m |
| Smoothie mix | 60 ml |
| Baileys | 30 ml |
Method: Combine all ingredients in a blender & blend till smooth
Type: Blended
Garnish: Chopped almond slices
Glass: Highball
16. Peach-Sickle
| | |
| --- | --- |
| Ingredient | Qty. |
| Peach flavoured vodka | 30 ml |
| Vanilla flavoured vodka | 30 ml |
| Smoothie mix | 60 ml |
| Peach | Half |
Method: Combine all ingredients in a blender & blend till smooth
Type: Blended
Garnish: Peach slice
Glass: Highball
17. Passionate Kiss
| | |
| --- | --- |
| Ingredient | Qty. |
| Passoa | 30 ml |
| Peachtree schnapps | 15 ml |
| Lemon flavoured rum | 15 ml |
| Pineapple juice | 30 ml |
| Smoothie mix | 60 ml |
| Pineapple Chunks | 3 to 4 |
Method: Combine all ingredients except Passoã in a blender & blend till smooth. Float Passoa on top of the beverage once poured in a glass
Type: Blended
Garnish: Pineapple triangle & cherry
Glass: Highball
18. Mudslide
| | |
| --- | --- |
| Ingredient | Qty. |
| Vodka | 30 ml |
| Baileys | 45 ml |
| Coffee liqueur | 15 ml |
| Smoothie mix | 60 ml |
| Whipped crème |   |
Method: Combine all ingredients in a blender & blend till smooth
Type: Blended
Garnish: Chocolate syrup
Glass: Highball
19. Melon Ball
| | |
| --- | --- |
| Ingredient | Qty. |
| Vodka | 30 ml |
| Midori | 30 ml |
| Pineapple juice | 90 ml |
Method: Combine all ingredients in a shaker & shake well with ice. Pour in a Highball glass
Type: Shaken
Garnish: Melon cube
Glass: Highball
20. Hazelnut Colada
| | |
| --- | --- |
| Ingredient | Qty. |
| Coconut flavoured rum | 45 ml |
| Hazelnut liqueur | 15 ml |
| Coconut cream | 15 ml |
| Smoothie mix | 30 ml |
| Pineapple juice | 60 ml |
| Honey | 1 tsp |
Method: Combine all ingredients in a blender & blend till smooth
Type: Blended
Garnish: Pineapple slice
Glass: Highball